Photos of Sherman Lyman

I am finally getting around to scanning and sending our webmistress, Ms. Linda Luther, Sherman Lyman's pictures to be displayed on the websites. Sherman is from the "Gateway to the West," St. Louis, MO and his memories are from the "Far East," Bearcat, South Vietnam. Before shipping over across the "big pond" to Vietnam, Sherman was stationed at Hunter Army Airfield in Savannah, Georgia and that is where he met his future bride, Anne. Anne waited for Sherman and when he completed his tour of duty in Vietnam, he returned to Hunter Army Airfield and they were married. Sherman flew with the 240th AHC from May 68 to May 69. He flew as a doorgunner and then crew chief with our Greyhound SLICKS and was on the ship with Doug Compton when Mr. Faverty was KIA. Before he left the 240th, Sherman also went to become a Mad Dog crew member too. During his tour, the 240th was transferred out of the 214th CAB, Cougars to the 222nd CAB, SkyMasters. Welcome home, Sherman, and thanks for sharing your 240th memories with us.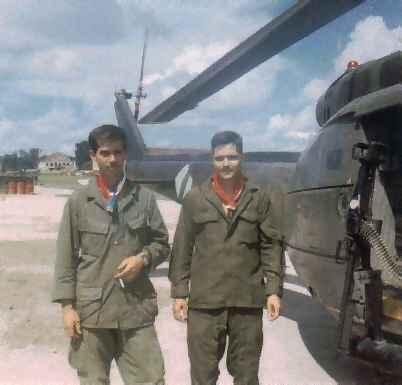 Here's a picture of Patrick Dunn and Sherman Lyman standing next to one of our Greyhound SLICKS when the 240th when still with the 214th CAB. Both Patrick and Sherman are wearing the scarves the 240th AHC Aviators wore when working the special operation missions.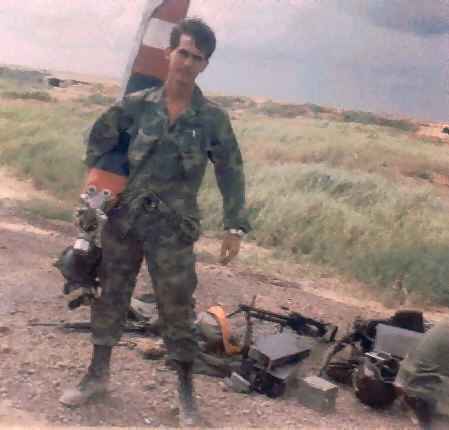 Not only did helicopter aviators have to worry about the VC (Charlie) and the NVA (Mr. Charles) trying to shoot us down, but we also had to contend with hoping our ship stayed up in the air without any mechanical malfunctions. The many hours we flew and the climate of South Vietnam put a lot of stress on the machines we had to fly in. Here is Patrick Dunn holding the pieces of what was left after a major tail rotor failure!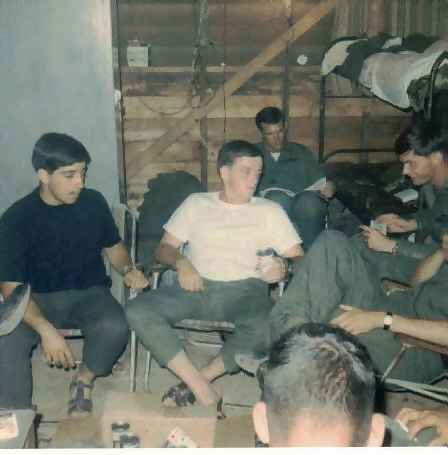 Some of the flight crews enjoying some well deserved down time. Wayne Gaspar, Olson, WO Steve Foster, WO Dana Young in back is reading the magazine.



Here is Ron Rinker standing next to his Mad Dog Gunship. Looks like another Mad Dog crew member laying down in front of the ship and taking a nap. Sadly, according to our 240th Brother, John Thrift, Ron Rinker is no longer with us.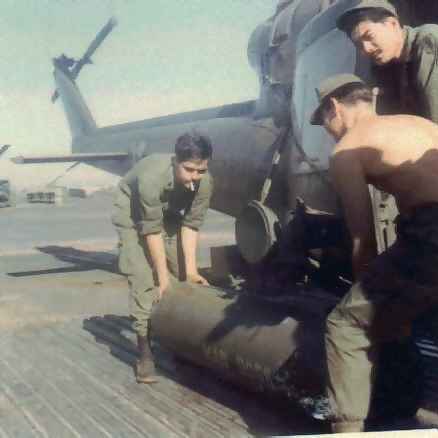 Sherman and a couple other 240th AHC crew members are seen here either putting on a new rocket pod or taking off an old one for their Mad Dog Gunship.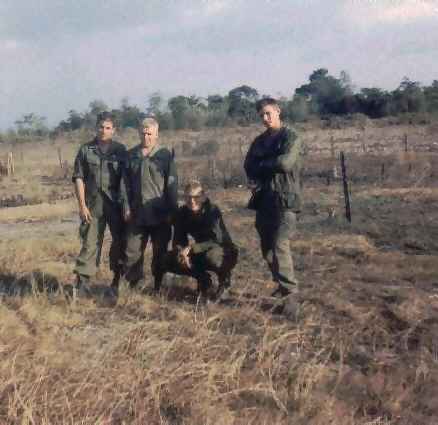 If anyone out there can help us identify these 240th Brothers, we would appreciate any help.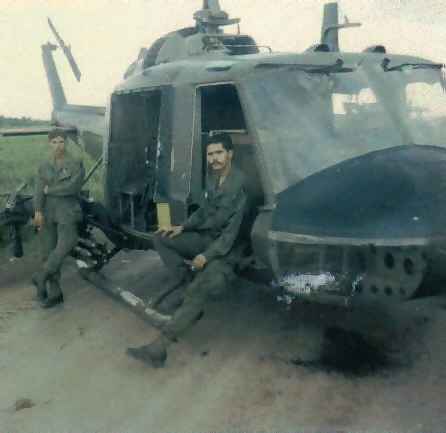 That's Sherman Lyman, sitting in the door of the AC's seat, he was the crew chief/doorgunner of this Mad Dog Mini-Gun Gunship and his doorgunner in the background, waiting to go airborne. Does anybody recognize the doorgunner leaning against the weapons system?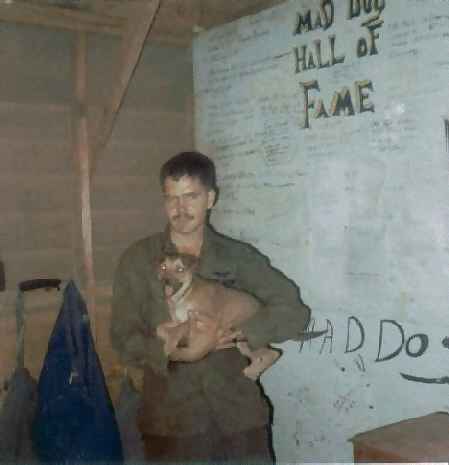 Sherman Lyman is holding one of the Mad Dog mascots in front of the famous Mad Dog signature board. Does anyone know whatever happened to the Mad Dog board?

Back to Main Index